In primo matutine - Ad missam in auroram
Author: Mr. Jean-Pierre Exter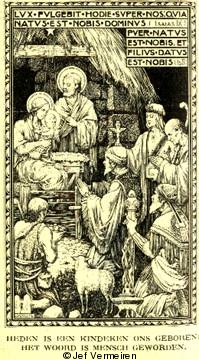 At the moment the day doubts between light and darkness on Christmas day a Mass is celebrated that has gone somewhat into oblivion. This Mass was or is called the Shepherd's Mass or Early Mass, in Gregorian-Latin language it got the name Ad missam in aurora. At Christmas there are four Masses: on the eve, at midnight and the Early Mass and High Mass on December 25th proper. Each has its own liturgical message.
The Early Mass, third of four Masses, has its message too: Christ is the growing light for us, as sung in the Introit Lux fulgebit hodie super nos: today a light will shine on us. Very poetic and deliberately in the future tense because it is still dark at that moment. That way the incipit of the Introit gets a double meaning.
The Early Mass, and also on other days than Christmas, is the first one after the Prime, between six and seven AM. In our region [Flanders in Belgium] the sun rises at about a quarter to nine AM, at Rome at half past seven and at Jerusalem at half past six AM. In old manuscripts the indicated time is more or less the same, in summary as follows: at the earliest dawn as for instance in the Bamberg codex IN PRIMO MATUTINE: early in the morning. At Einsiedeln and in the Saint-Gall Cantatorium the same heading is noted.
The origin of the Mass is very old. During the sixth century CE already the Pope celebrated the Midnight Mass in the Santa Maria Maggiore church. After Mass, on his way back to Saint Peter's Church, he celebrated another Mass at Palatine Hill in a church dedicated to Saint Anastasia. There was a small Greek community where Saint Anastasia was venerated. She was a Greek martyr from the third century, tortured and killed during the reign of Diocletian.
At Jerusalem there was an Early Mass at half past six in the sixth century already in order the celebrate the Nativity of Christ. By analogy with the Mass at Jerusalem the Mass for Saint Anastasia was gradually substituted for the Lux fulgebit Mass. Even so Saint Anastasia is not completely forgotten though not much is to be found of her Mass anymore. In the Druivelaar [Flemish daily almanac] she is still mentioned on December 25th. Anastasis has several meanings in Greek, excitation being one of them, appropriate for December 25th.
Christmas time 2018