The Feast of Saint Godelieve
Author: Mrs. Myriam Van Lerberghe-Thibaut
The celebration of Saint Godelieve spans 25 days: from July, 6 to 30.
July, 6: commemoration of the strangulation (1070)
July, 30: commemoration of the canonization, fourteen years later (1084)
On the Sundays between both dates Saint Godelieve is also celebrated.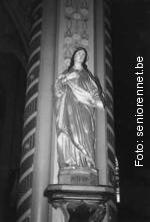 Godelieve of Gistel (diocese of Brugge, Flanders) is one of the most venerated Flemish saints. She has not had very much joy during her short life. Coming from a noble family she was given in marriage to Bertolf, Lord of Gistel.
In order to safely tell the story, I revert to only one source, the oldest and most trusted one, being "De Vita Godeliph", by Drogo of Sint-Winoksbergen, (once in Flanders, present Bergues in France, note from the translator), written ten year after the time of her death. Drogo wrote his story for the bishop of Noyon-Tournai, in order to support her canonization cause. His story is sober and not dramatized. It is not a story for gossipmongers or mockers, not a mystical treaty for spritual geniuses, not a manual for popular preachers. It is just the profile of a married woman who stood firm, devoutly in the undeserved suffering that fell upon her.
Short story of her life.
Drogo states that both partners match each other according to usual standards. Godelieve, gifted with beauty and modesty, was asked her hand by Bertolf and Godelieve and her parents consented. But during betrothal time, things went wrong already: "But on the same day when [Bertolf] brought her home as his bride, his soul was as it were struck by a hostile arrow and he started to hate her", as Drogo writes.
During the wedding feast, that lasted three days, Bertolf remains overtly absent. His is role is taken over by his mother. Bertolf does not want to be with her anymore and houses her with his mother, who hated her. Godelieve manages to escape to the parental home, where her parents file a complaint with the bishop of Tournai and the count of Flanders. So Bertolf has to take her back and treat her decently. He seemed to do so, but behind his mask he forges a ruse to do away with her.
When Bertolf was absent, Godelieve was strangled by his servants an dumped in a well. Bertolf had her buried and he had a child born blind with his second wife.
When the mother of that child died 13 years later, the child sneaked into the chapel. She kneeled on one of the two tombs and begged the heavens to return her sight. Her sight was restored and she observed that she had kneeled on the tomb of Godelieve and not her mothers. Immediately the veneration of Godelieve broke through.
What about Bertolf? He put on the hair shirt, repented, undertook many pilgrimages and ended his days in a convent.
The water from the Gistel well is attributed with healing power.
Also read the comment on the Abbey Ten Putte at Gistel from the same author.
(We have chosen to use the Flemish version of the name Godelieve, as the story happened in Flanders, the Dutch speaking part of present-day Belgium and because the name is very rare in the English speaking world. The Latin version is Godeliph, in German it is Gottlieb (for men). The name means "loved by God", so it has the same meaning as Amadeus and Theophilos. Note from the translator.)