Saint Thérèse of Lisieux
Author: Mrs. Myriam Van Lerberghe-Thibaut
The Memorial of Saint Thérèse of Lisieux is on October 1.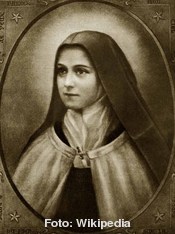 Thérèse Martin is born on January 2, 1873 in Alençon in Normandy (France). She suffered poor health. Her father, Louis Martin, was a watchmaker and her mother, Zélie Guérain, a lace-worker. To their family nine children were born, four of which died early. The other five became nuns: Thérèse and her four sisters.
Thérèse looses her mother at young age, when she was four. The family moves to Lisieux where Thérèse grows up with her 16 years old sister, fulfulling the role of mother, until the latter decides to become a nun.
Thérèse was of exceptional piety and was well known for her sense of humor. She wanted to become a missionary in China. But when her three sisters entered the Carmelite order at Lisieux, she got the same idea to enter the convent at Lisieux (Normandy). This decision becomes clear when she turns 14. Because she is too young, she needs the bishops approval. He refuses.
Finally, when she is 15, with special approval of Pope Leo XIII, she enters the order (the fourth sister would eventually follow her). In AD 1890 she makes her profession and she is entrusted the care for the novices in 1893. Actually she did not want to become a professed nun but remain a novice.
At the indication of her sister, who was the superior mother at that time, she starts writing her life story in 1895: "Histoire d'une âme" ("Story of a soul"). In 1896 she is diagnosed with tuberculosis and she dies, 24 years old, on September 30, 1897.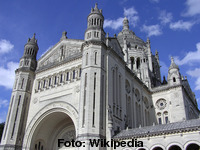 She is beatified on April 29, 1923 and her canonization follows on May 17, 1925. AD 1997 being the third woman in this case, she is declared Doctor of the Church by Pope John Paul II, because she introduced a new spirituality in the Catholic tradition.
A well known saying of hers is: I want it to rain roses (benedictions) on Earth. For this reason she is mostly depicted as a Carmelite nun holding roses in her hand. She became the patron Saint of missionaries and missionary work and also of florists.
In order to discern between her and Saint Teresa of Ávila, she is sometimes called "the Little Teresa" (in English she is called "The Little Flower of Jesus", in French "Sainte Thérèse de l'Enfant-Jésus et de la Sainte Face", note from the translator). Outside Lisieux an enormous basilica was built in honour of Saint Thérèse. It is constantly visited by pilgrims and tourists.